La alfombra roja del año, y creo que estamos casi todos de acuerdo, es la de los premios Oscar.
Desde mi punto de vista, en cuanto se refiera a los looks, no hubo casi fallos, ya que todos iban bastante correctos y nadie llamo especialmente la atención por su falta de gusto.
The red carpet of the year, and I believe we almost all agree, are the Oscars.
From my point of view, as for the outfits, there were almost no fails, and everybody made pretty good choices and no one called our attention for his lack of taste.
Angelina Jolie de Atelier Versace me gusto más que en los Globos de Oro ya que se le veía más serena y Emma Stone también guapísima.
I liked Angelina Jolie's Atelier Versace outfit more than the one she wore at the Golden Globes as she looked more serene and also Emma Stone was very beautiful.
Jennifer Lopez marcando curvas en un impresionante vestido de Zuhair Murad, pero como yo soy de cosas más sencillas y no tan provocativas me inclino más por Jessica Chastain en un McQueen.
Jennifer Lopez showing her curves in an impressive Zuhair Murad dress, but as I am going more for more simpler and not so provocative outfits, I go for Jessica Chastain's McQueen dress.
Anna Faris y Rooney Mara fueron las que menos me gustaron ya que Anna con ese vestido parecía que se le había caído un barril de petróleo encima y el vestido Givenchy de Rooney en la zona de los pechos nos es muy favorecedor.
Anna Faris and Rooney Mara were my least favorite. Anna looked like a barrel of oil has fallen on her and Rooney's Givenchy dress,especially the bust area, wasn't very flattering.
Tampoco me gustaron los vestidos de Natalie Portman, rojo de lunares negros y el de Melanie Griffin, que no acierta una, pero tengo que decir que esta vez iba más o menos bien.
I also didn't liked Natalie Portman dress, red with black polka dots and Melanie Griffin's it fails almost always, but I have to say that this time she was more or less ok.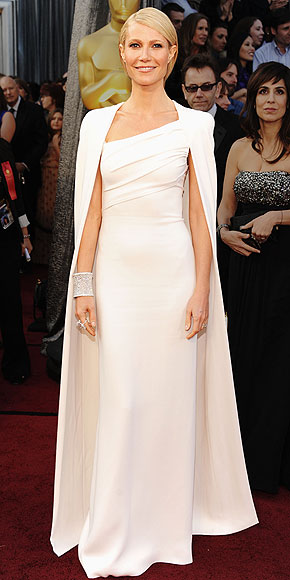 Pe iba bastante correcta respetando su estilo, pero creo que demasiado clásica, podría haberse arriesgado un poco. En cambio Gwenyth llevaba un vestido de Tom Ford con capa, que no acabo de verlo.
Penelope was pretty correct, faithful to her style, but I believe too classic, she could have risked a little. For a change, Gwenyth was wearing a caped Tom Ford dress, which I don't quite see it.